Amy Delson Jewelry
Pearla - Single Stranded Pearl Necklace With White Topaz, Blue Topaz, Amethyst Or Garnet Gemstone Clasp
Pearls embody purity, innocence and wisdom. They promote emotional balance and tranquility.
💜 Amethyst for Stress Reduction and Calm 🤍 White Topaz for Clarity and Purity
♥️ Garnet for Love and Positivity 🩵 Blue Topaz for Abundance and Relaxation
Choker Length 16"
Toggle Clasp with two 6x4mm White Topaz,

London Blue Topaz,

Purple Amethyst or Red Garnets
Available in Sterling Silver or 18k Gold Vermeil
Hand knotted genuine near round 6mm pearl strand
Wear multiple ways, with clasp in front, side or back
Made with Love in NYC
Engraved with ADJ logo
Gift boxed
Matching Earrings, Pendants and bangles available
Contact us for Solid 18K Gold pricing
Please note, this unique piece is made to order just for you. Please allow two to three weeks for creation from time of purchase, thank you!
Care
How to care for your necklace:
It's a good idea to put jewelry on last, and then take it off first thing
Do not wear pearls in water, whether showering or bathing
Don't wear pearls while cooking or around harsh chemicals
Don't expose to perfume, oil, or lotion
Avoid excessive sweat while wearing
Use polishing cloth to restore shine to clasp
What is Gold Vermeil?
Following solid gold, gold vermeil is the highest quality gold tone jewelry available for purchase. It presents an excellent choice for jewelry lovers in search of accessibly priced alternatives to solid gold jewelry.
In order to be called vermeil, the center core of the piece must be sterling silver, and the outer layer of gold must be at lease 2.5 microns thick.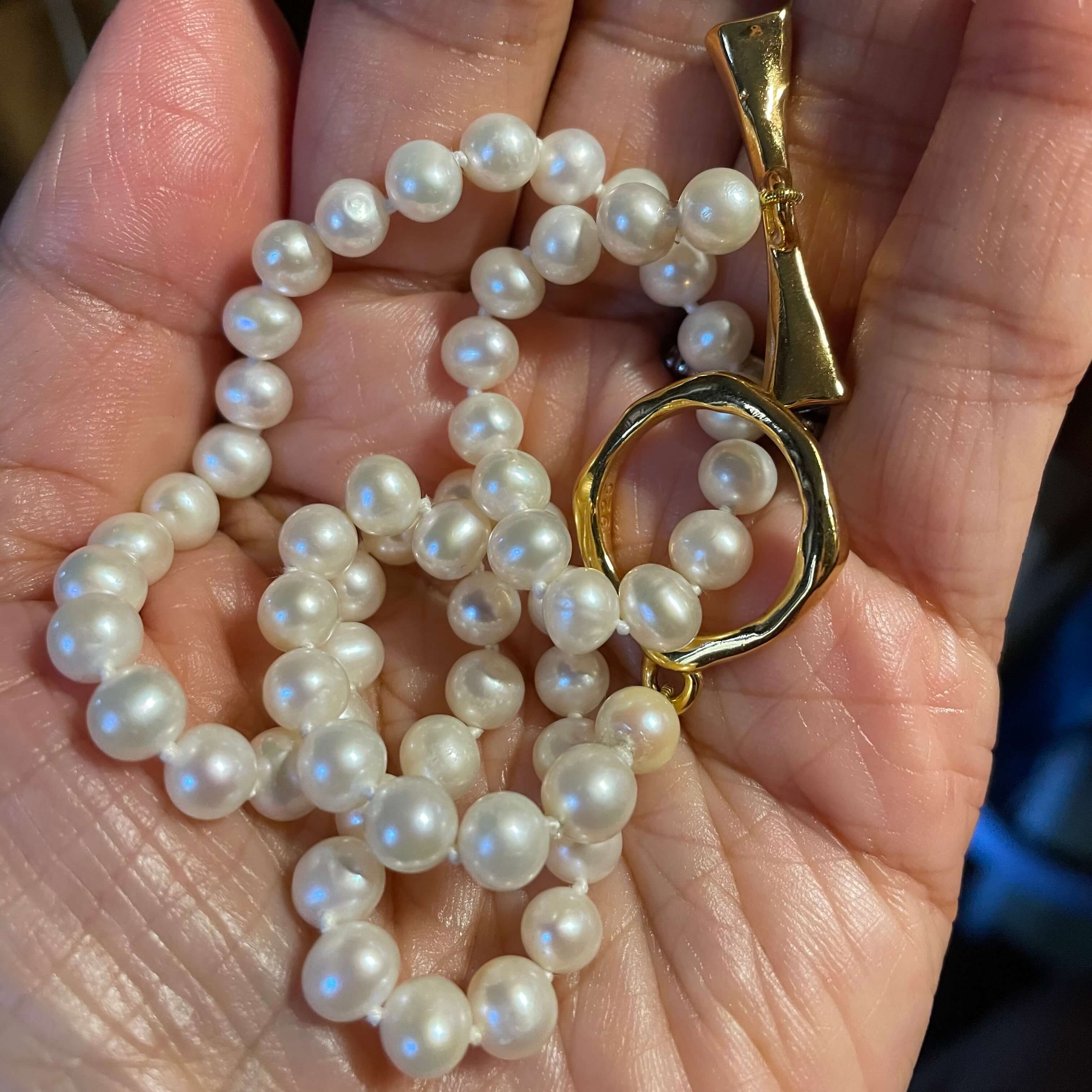 Natural Beauty
Creative Insight

"Pearls, born from the depths of the sea, embody purity, innocence and wisdom. Just as oysters transform grains of sand into treasures, pearls inspire us to embrace personal growth, turning challenges into beautiful opportunities."
~ Amy